Banana Walnut Muffins
Posted by lovelyloey on January 11, 2008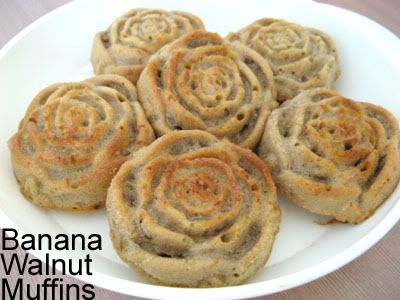 My order for silicon bakeware came recently, and I just had to try my hands on the rose silicon muffin pan!
Pretty, no?
Alas, somehow there are pits in my rose, hmm. Can't be helped I guess. I think these will look really great as Valentine's Day gifts.
They are so pretty I can't bear to eat them.
Recipe
2/3 cups mashed banana
2 cups flour
3 eggs
3/4 cup water (or instant coffee)
1/2 cup butter
1/2 cup sugar (I reduced that to 5 tablespoons)
1 cup chopped walnuts
2 tsp baking powder
optional banana extract
Well. Just kinda dump everything together, mix well, and pop into the oven at 175deg Celsius.
4 Responses to "Banana Walnut Muffins"